Durable cover and gasholder
The Air Blown Cover is an innovative double membrane roof with a relatively large, variable gas-storage volume, for biogas installations and other purposes. Weather variations have little effect on our AB Cover due to its shape and membrane pressure.
Advantages
Variabel Gas storage volume

Suitable for all European snow- and windloads

Easy accessibility for maintenance and overhaul activities

Lowest silo load on a hemispherical construction

Low wind sensitivity and lower chance of snow accumulation due to stable construction
The standard version of the AB Cover includes:
An outer membrane of UV-resistant biaxial woven foil
An inner membrane of chemically resistant biaxial woven foil
A blower (or blowers) to maintain the pressure on the outer membrane
An over/under-pressure valve
A manual height gauge, to measure the gas volume
A gas-tightness test
 Supporting belts and net
ATEX fans
One or more viewing windows
Skirt/ snow skirt
An ultrasonic / radar height gauge
Stainless steel column
Service box for purpose of inspection
Biogas roof miniature overview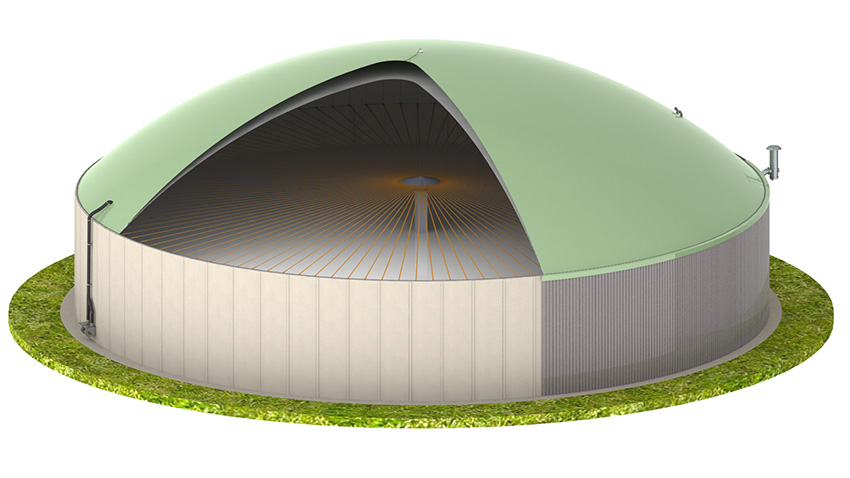 Over/under-pressure valve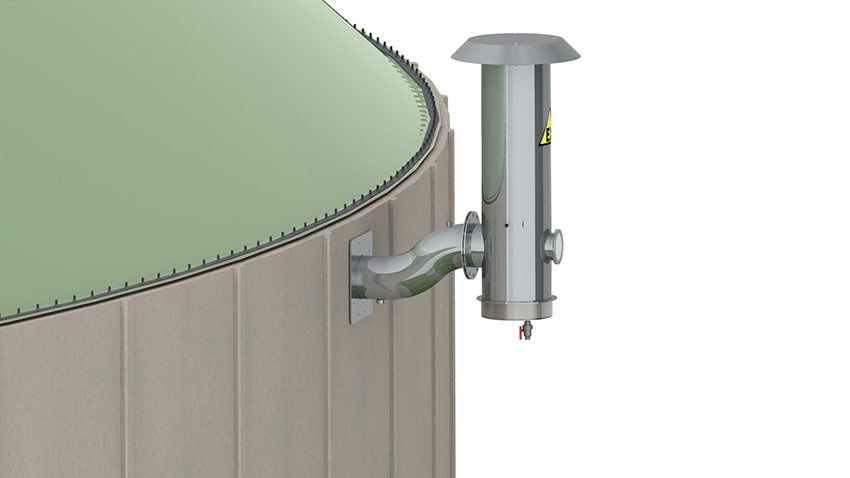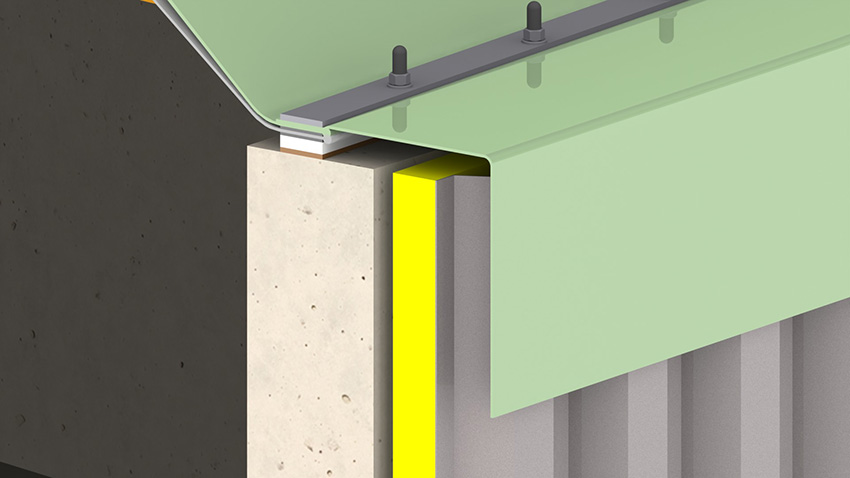 Durable cover and gasholder
Thanks to the high chemical resistance and mechanical strength of the foils, the ab cover satisfies the highest quality standards. New cutting and welding procedures enable the covers to better absorb the biaxial forces exerted on them.  When the hemispherical model is chosen the lowest possible force is put on the silo wall.
The AB Cover is a double membrane cover in which the outer cover is always pressurised. As a result, rain, snow and wind have little impact.
The AB Cover has a huge advantage over silo roofs due to its widely variable gas storage capacity and its ability to function as a cover for a digester or secondary digester, to temporarily collect gas. Of course the AB Cover conforms to all local and European environmental legislation.
Customisation for every situation
Each AB Cover is customised to accommodate the client's wishes and external factors. The cover consists of separately installed upper and lower membranes which are manufactured from biaxial reinforced fabrics with a high-grade chemically resistant PVC coating.
Maximal variable gas storage capacity
AB Covers have an enormous gas storage capacity and are available for silos up to a diameter of approximately 45 metres. Operational pressures till 10mbar are no problem. Higher pressure can be accommodated on request. The tension straps and net support the upper and lower membranes against under-pressure situations and supports sulphur component flare-outs.
Installation of the AB Cover
The AB Cover is delivered to the building site prefabricated. If desired, assembled on site by our own assembly team (s).
The support straps (tractive force of 2500 kg) and the safety and desulphurisation net (net strength of 400 kg/m2) are installed at an angle. Service openings can also be incorporated as an option. A layer of wooden beams is unnecessary, which saves a considerable amount of money. Wiefferink has several own specially trained assembly teams. The success of your project is made possible by the extensive experience of our assembly teams gained during very diverse projects with renowned clients around the world. All our engineers are internally trained and VCA certified.
Maintenance 
The AB Cover must be visually inspected at regular intervals. The glycol level and glycol freezing point must be checked in the over/under-pressure valve.