Combibag
Combibag is a flexible storage for up to 10.000m3 of manure and digestate, which captures the gases released during the digestion processes. The relatively low investment, fast installation and landscape-friendly appearance are the main advantages.
Advantages

Large, flexible storage with gas storage

Simple permit process; sometimes notification is sufficient

Fast delivery and assembly landscape-friendly due to low profile and green colour

Low investment costs
Very strong, chemically resistant, flexible foil

More than enough reinforced fastening points, straps and anchors

Gas-tight inspection opening with stainless steel hatch

Safety edge and separate gas removal points

Overpressure valve
Extra inspection opening with stainless steel hatch and safety edge
Electric mixer
Pressure and/or fill level measurement
Heating
Connections with non-return valve(s) for
biogas installations.
Over/Under-pressure valve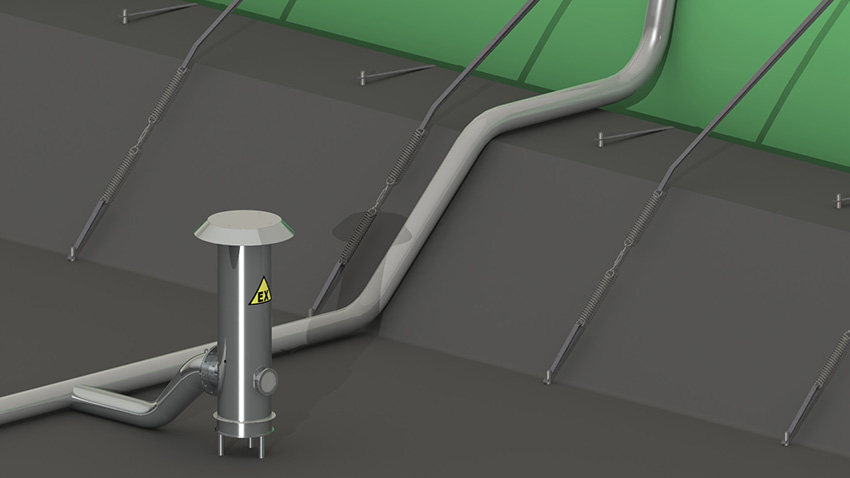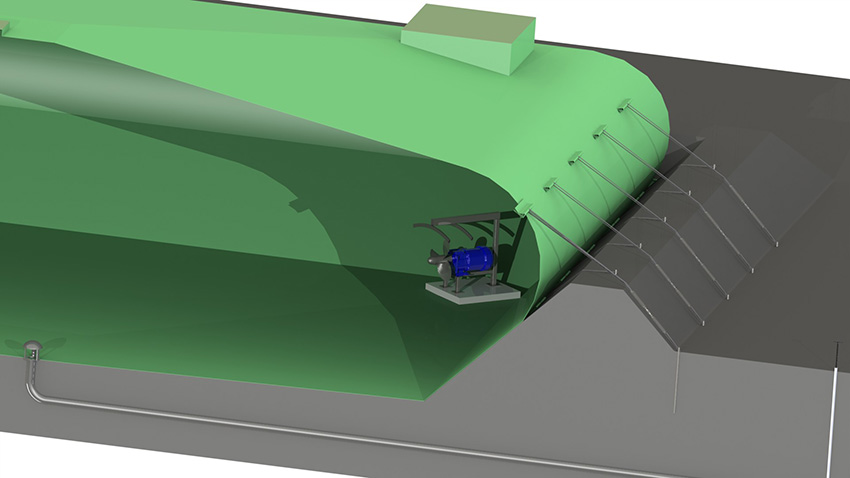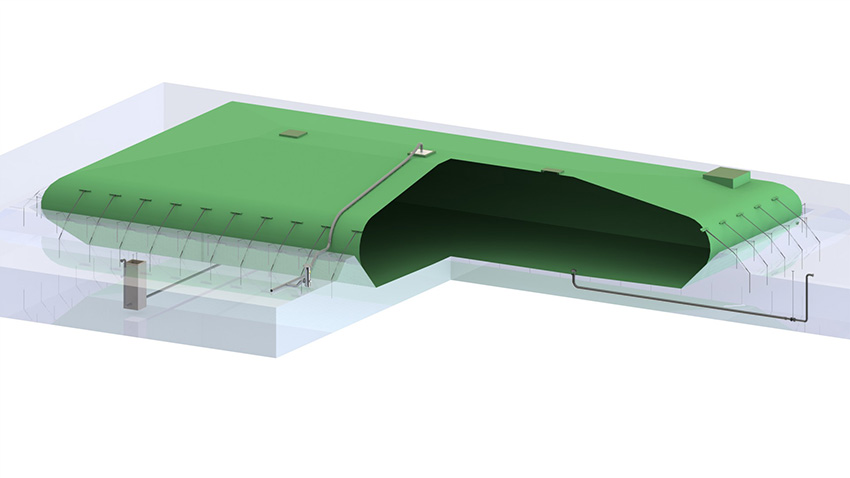 Environmentally friendly storage system for manure and digestate with gas capture
The combibag is a system that Wiefferink has developed to store manure and digestate in an odourless manner, while also providing space to capture the methane given off by the slurry. The special eco-green colour of the combibag means it is hardly noticeable in the landscape. The storage system is easy to install on most ground types.
The Combibag is produced with a special foil suitable for the digestion process and for capturing gas. In comparison with our Ecobag, it has more, heavier fastening points, tension straps and anchors. These are appropriate for absorbing the forces resulting from the gas pressure. The Combibag is fitted with an over pressure valve and has a maximum gas pressure of 1.5 mbar.
Blends into the landscape
The Combibag captures the gases released, to prevent odour nuisance in the vicinity. In addition, the Combibag is available in grey and a special new eco-green colour to blend in with the landscape.
No building permit
No building permit is required, because no permanent construction is required for the Combibag. Depending on local legislation, however,it may be necessary to apply for an installation permit, though sometimes simply notifying the authorities of the installation is sufficient.
Installation of the Combibag
The main advantage of the Combibag is that it can be installed in almost any location, without a supporting structure. The Combibag is placed within an earth bank for side support. Wiefferink supplies the drawings for dimension of the groundwork. Before installation, our experts inspect the sizing and the situation at your location, so that we can complete the installation as quickly and effectively as possible, ready to use. Additional options for the Combibag include a gas pump installation, pressure measurement, heating and a mixer.
Maintenance and lifespan
The Combibag requires very little maintenance. It is, however,necessary to check the volume of the gas production, the intended gas removal and the operation of the overpressure valve.